🐢
Candy Creative Season!
More info about the Candylicious events
HERE!
🔮
Magic Shuffler -
New Booster in Candy Crush Saga!
HERE!
🏃
Candy Spring Race!
Collect badges and win Gold Bars
HERE!
🍦⛸️ Ice Cream Games - Preview on what's coming to Candy Crush Saga in February!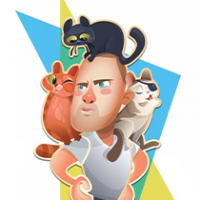 Crazy Cat Lad
Posts: 13,537
Community Manager
February is the month when we need to team up, to get our pulses beating faster and reach a higher level in Candy Crush Saga!
Chilly, sweet, but sweaty four weeks are waiting for us.
Have your skates ready and be prepared for the big team event on skates in Ice Cream Games!
New Candy design!
The blue candies will also be reskinned into sharp skate candies to get the perfect winter game feeling the coming weeks. 
Cool, huh?
The main event in Ice Cream Games will be a team event - Pair Skating!
All players are automatically assigned into a team when the event starts and then play against the other teams.
The teams are the following four:
Which team would you prefer to be in and to win the whole tournament?
Do you think Tiffi & Nutcracker will have the sweetest show and win the game with you?
Is it Yeti & Olivia who will crush this competition with the formidable footwork on the ice? 
Maybe it's the sugary spins of Denize & Odus that will win the battle?
Or will it be the adorable axel jumps by Misty & Minty that'll steal the show?
Let us know which team you're hoping on to be in and win the Pair Skating in Ice Cream Games!
Vote and comment here below what team you hope to be in and what your expectations are from the Ice Cream Games Season.
The Ice Cream Games will start on Monday 7 February!
👨‍👩‍👦‍👦 New to the Community? Register HERE in just 2 seconds.
🍦⛸️ Ice Cream Games - Preview on what's coming to Candy Crush Saga in February!
83 votes